Premium
Contact us if you want to get this pack. Contact us if you want a complete digitalization of your company through workshops, consulting and support too.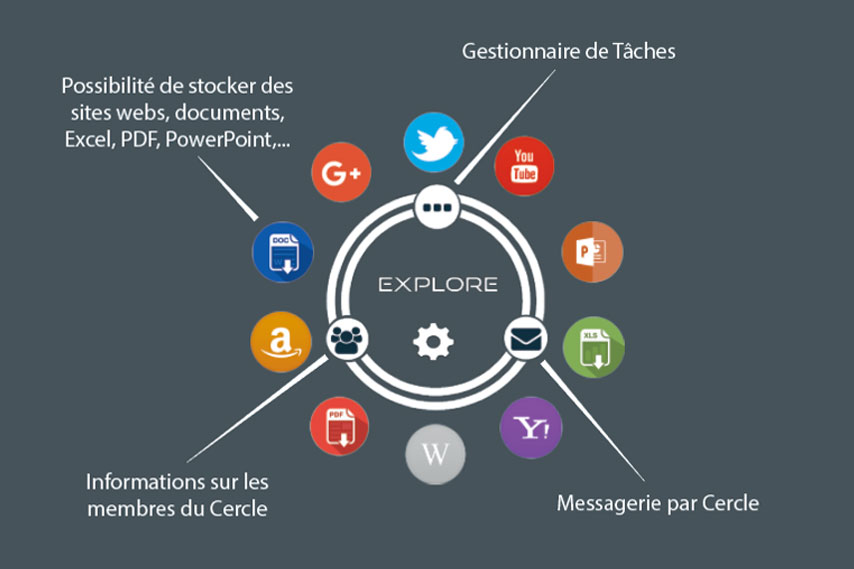 1

The Circle
symbol of your team or project
On HARDAH Business, organize your work in the form of Private, Informative or Collaborative Circles.The Marketing Team can create its Marketing Circle accessible to all members of the team.

They can add content (document, website, excel, ...), send messages via the team chat to avoid overloading emails, easily find information about their employees, assign tasks with deadlines and work digitally as a team.
2

Task Manager
Organize your tasks
Each Collaborative Circle has a task manager.

- Assign tasks to your collaborators
- Follow projects from beginning to end
- Write via the chat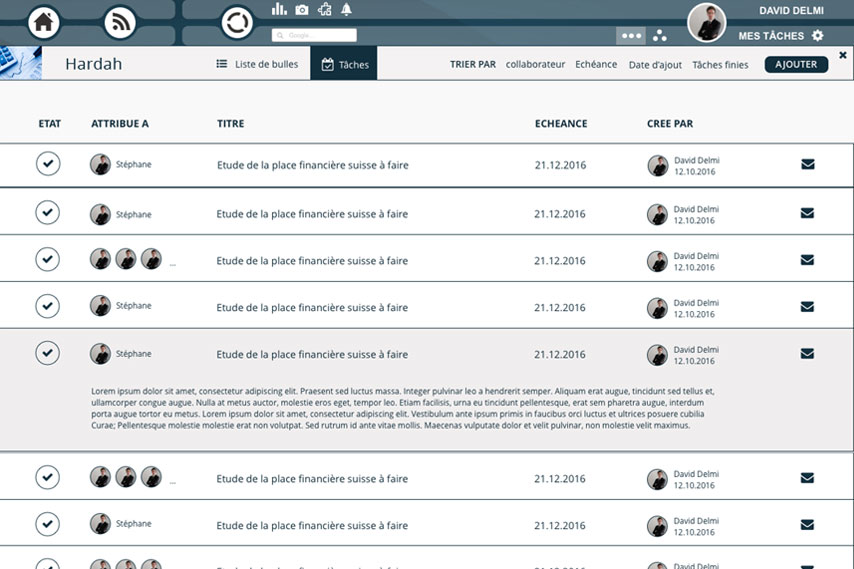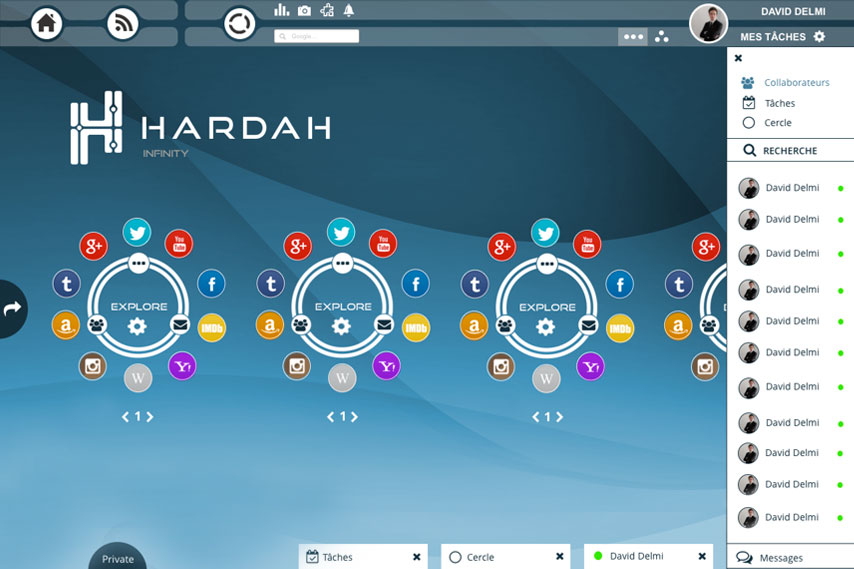 3

Chat
Instant messaging
3 chat messaging to reduce email management and increase productivity: Individual Chat, Chat by Circle (Team), Chat by Task
4

Smart search
For each Circle
Each Circle has an informative pop up with a smart search that allows you to find anyone in your Circle.You can search by name, function, skill, ...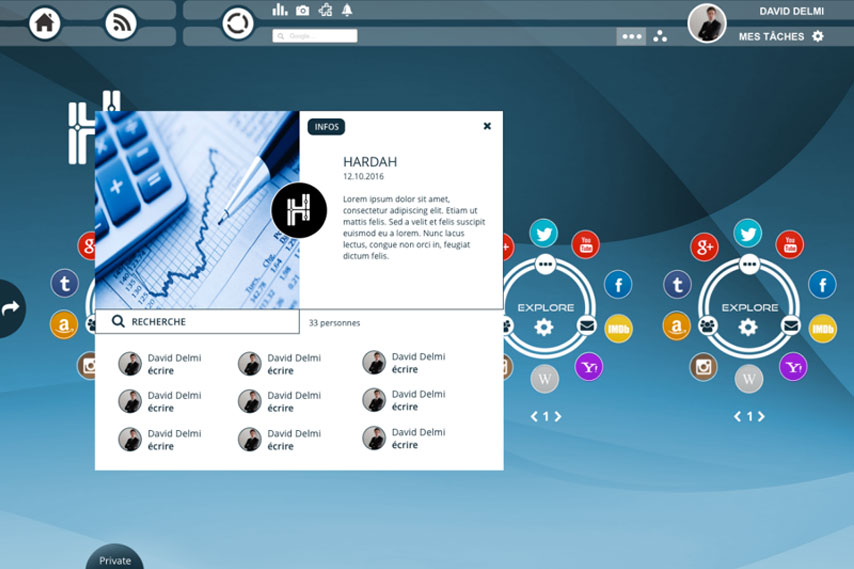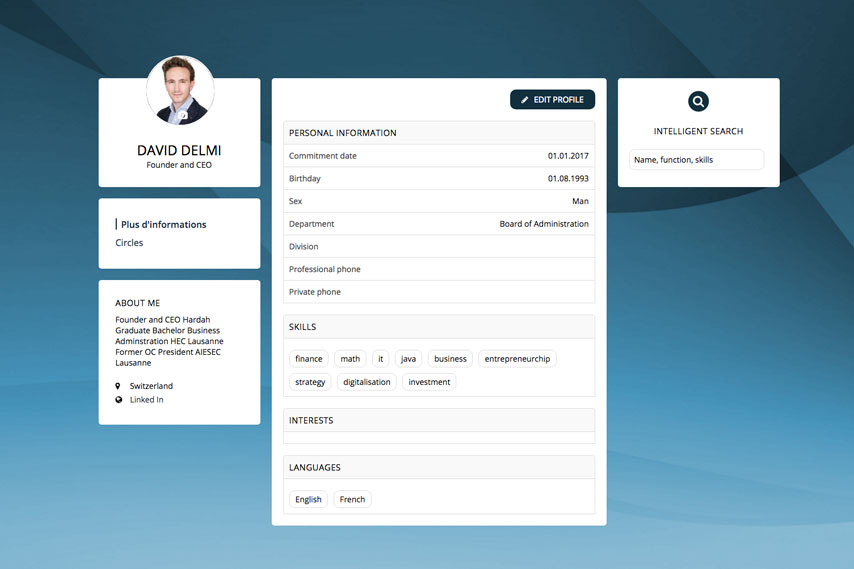 5

Profile
Contributors
Each employee has his profile page where he can list the following information: -LinkedIn Page -Competences - Interests - C.V. - Department - Email - Telephone
27%
Decrease in duplicate tasks for organizations using social professional tools
Source: PWC, Australia, 'Entreprise social platforms driving productivity and collaboration.'
32%
Increase in idea generated for organizations using social professional tools
Source: PWC, Australia, 'Entreprise social platforms driving productivity and collaboration.'
27%
Decrease in emails sent
Source: PWC, Australia, 'Entreprise social platforms driving productivity and collaboration.'
Number of users
more than 300
Free Swiss cloud storage
Contact us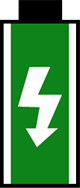 Support included
Premium
Free Workshop digital
2
Digital Strategy Consulting
free 10 hours
Annual price
Contact us
Monthly price
Contact us
34%
Less time to find information and experts for organizations using social professional tools.
Source: PWC, Australia, 'Entreprise social platforms driving productivity and collaboration.'
60%
Decrease of internal communication cost for organizations using new generation of Intranet
Source: McKinsey study on the rise of the networked enterprise web
30%
Increase in employee satisfaction for organizations using social professional tools
Source: PWC, Australia, 'Entreprise social platforms driving productivity and collaboration.'